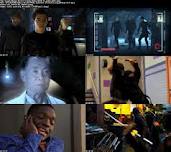 The Ishina are a gang that tries to defeat the ninjas. The Fukanaga has a lot of history with the gang. Like Hologramps's twin brother (only diffrence is the scar that the Owen first notice) is the leader. It is unknown who is the following member of the clan. Below are the following ninjas either hinted or known for sure:
Quotes
Trivia
The ninja that go against Connor's rule; Conner almost threw him off the roof
In Season 2, a ninja from the Ishina attacks Owen in the bathroom (although he was probably not the best fighter, since Owen defeated him easily)
Amanda makes a joke about Owen's phone and then high five's Mike and they both laugh.
Mike learns about The Ishina.
Owen sets up Mike and Amanda's first date.
When they were rock climbing Mike went to climb with Amanda instead of Owen.