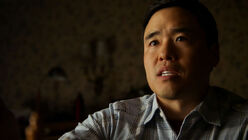 Martin Fukanaga is Mike's father. He is a police officer and has shown to be dim-witted and child-like at times, but still cares for his son a great deal. He mostly disaproves of Owen's constant visits. He has no idea that his father was a ninja. Since he didn't get his father's "ninja genes", his generation was skipped and they went to Mike instead. He's unknown st know that Mike and his friends are ninjas either.
"Finish your rapping!"
This article is a stub. You can help Supah Ninjas Wiki by expanding it! Thanks!
Ad blocker interference detected!
Wikia is a free-to-use site that makes money from advertising. We have a modified experience for viewers using ad blockers

Wikia is not accessible if you've made further modifications. Remove the custom ad blocker rule(s) and the page will load as expected.