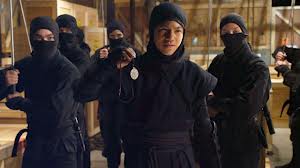 The Ishina are a group of evil ninjas who wish to steal the Floating Sword from Mike, Owen, and Amanda, even though they don't know where it is to begin with. They tried to hack into the dojo in the episode "Ishina". They also tried in the finale of the first season. Connor found the dojo but was forced out. The Ishina attempted to find the ninjas in "Grounded Ninja" as well. They also destroy the dojo, along with Hologramps, in the episode "The Ishina Strike Back", forcing the Supah Ninjas to eventually rely on "Kid Q" (Quentin) to fix it.
Notable Members
Ad blocker interference detected!
Wikia is a free-to-use site that makes money from advertising. We have a modified experience for viewers using ad blockers

Wikia is not accessible if you've made further modifications. Remove the custom ad blocker rule(s) and the page will load as expected.